The Voice of the Shepherd
September 2023

But mark this: There will be terrible times in the last days. People will be lovers of themselves, lovers of money, boastful, proud, abusive, disobedient to their parents, ungrateful, unholy, without love, unforgiving, slanderous, without self-control, brutal, not lovers of the good, treacherous, rash, conceited, lovers of pleasure rather than lovers of God—having a form of godliness but denying its power. Have nothing to do with them.  2 Timothy 3:1-5
Just a quick reading or listening to the news and you can see the world around you is growing darker by the day. I have seen and read recently---A California mom Jessica Konen sued her daughter's school district, after Buena Vista Middle School had socially transitioned her 11-year-old daughter, without her knowledge or consent. --In Florida Stephan Rodda killed his teenage son. --- In Louisiana a 16 year old was shot and killed by an 18 year old at a High School football game.---Just east of San Francisco, some 80 suspects were involved in a "smash and grab" stealing $200,000 worth of merchandise.-- In Pakistan, thousands of angry Muslims rampaged and twenty-five churches were destroyed. Jesus said, "At that time (the last days) many will turn away from the faith and will betray and hate each other, and many false prophets will appear and deceive many people. Because of the increase of wickedness, the love of most will grow cold…." (Matthew 24:10-12)
We can see the turmoil and upheaval not only in our society, but in all of creation as well. The earth itself is "groaning as in the pains of childbirth." This is seen in fires, hurricanes, tornados, and weather disruptions. The Bible also tells us that in the last days there will arise a "beast" and "no one could buy or sell unless he had the mark, which is the name of the beast" (Revelations 13:17) This ability to control currency is even now taking place. Recently(Aug 29, 2023) Bank of America closed the bank accounts of Indigenous Advance, a charity that serves the poor and vulnerable in Uganda, as well as a Memphis-based church that financially supports its work. They did this because the organization's Christian values and beliefs on marriage and abortion did not align with the bank. With all of the electronic banking, it is easy to see this quickly becoming a reality. We do not know the times or days of Christ's return, but there are certainly signs of the times coming into focus.
Where do we find hope? In the Word of God. It is through the Word of God that we are given grace and strength. It is through the Word of God that we can find peace in a troubled world and in troubling times. Jesus has said, "Peace I leave with you; my peace I give you. I do not give to you as the world gives. Do not let your hearts be troubled and do not be afraid." (John 14:7) God does not want us to be unsettled by these trials, but rather by warning us of their coming, we are better prepared to face them. 
This fall we will be doing a study in the Book of Revelation. For many this remains a closed book because much of it is symbolic and hard to understand. Leon Morris said "Perhaps there is no age for which its (Revelation's) essential teaching is more relevant." The book was written to a small church that was struggling with the hard-pressed situation it was in. In situation after situation, the truth is emphasized that God is supreme and that He brings His purposes to pass in the affairs of man. This apocalyptic literature appears in difficult times and reveals the author's conviction that the troubles the readers are going through do not have the last word. God will one day intervene and destroy all evil.
Perhaps you have been unsettled as you see the darkening of the world around you. Maybe you are troubled by the rampant lawlessness and the rise of hostility toward Christianity. I invite you to join us Sunday mornings or Monday evenings as we look at words of encouragement and hope for times of difficulty.
Pastor David
I urge, then, first of all, that requests, prayers, intercession and thanksgiving be made for everyone— for kings and all those in authority, that we may live peaceful and quiet lives in all godliness and holiness.   1Timothy 2:1-2
As a nation we are in need of prayer. Only by God's power can we overcome the evil that seeks to destroy our nation. Just last week, it was reported that a 15-year-old girl from Oklahoma who was attacked and beaten by a 17-year-old male who identified as transgender in the girls' bathroom. On Monday, Maryland Governor Wes Moore (D) issued an executive order that makes the state a sanctuary for gender transition procedures on minors. Recently, a violent assailant brutally attacked two elderly pro-lifers who were peacefully holding pro-life signs and ministering to women in front of a Planned Parenthood abortion clinic. In a fit of rage, the attacker viciously knocked them unconscious and violently punched and kicked them as they lay motionless on the sidewalk. If you watch the news or read the paper, you will find stories of violence, murder, hatred and selfishness fill the pages. The Apostle Paul foretold of these days. He said, "But mark this: There will be terrible times in the last days. People will be lovers of themselves, lovers of money, boastful, proud, abusive, disobedient to their parents, ungrateful, unholy, without love, unforgiving, slanderous, without self-control, brutal, not lovers of the good, treacherous, rash, conceited, lovers of pleasure rather than lovers of God-having a form of godliness but denying its power." (2 Timothy 3:1-5)
If you look at the world around you it could cause you to be anxious and fearful for yourself, your children and all those you love. As believers, we are not to allow fear and anxiety to control our lives, but rather to "trust in God" who works all things for our good. So what are we to do when evil comes? - we are called to pray!
The Apostle Paul reminds us where the battle for our nation and for truth lies. He wrote, "Finally, be strong in the Lord and in his mighty power. Put on the full armor of God so that you can take your stand against the devil's schemes. For our struggle is not against flesh and blood, but against the rulers, against the authorities, against the powers of this dark world and against the spiritual forces of evil in the heavenly realms."  (Ephesians 6:10-12)  As believers, all of us are called to pray for our nation and against the power of the evil one. Below are two ways we can do this:
1) I want to encourage and challenge you to pray daily for President Biden and VP Kamala Harris, that they might lead our nation in righteousness and truth. Prayer for our leaders in Congress. House Speaker Rep. Kevin McCarthy, and Senate Majority Leader, Chuck Schumer, that they might seek to do what is good and right and honorable. Whenever you are troubled, worried or upset about what you see or read, send a prayer to the Lord, the king of Heaven.
2) Examine your own heart. No one is innocent of great transgression. Be a leader in repentance. Joel the prophet gives us this hope in the dark days. "Even now," declares the LORD, "return to me with all your heart, with fasting and weeping and mourning." Rend your heart and not your garments. Return to the LORD your God, for he is gracious and compassionate, slow to anger and abounding in love, and he relents from sending calamity. ( Joel 2:12-13) Who knows? He may turn and have pity and leave behind a blessing.
Our nation was founded on Christian principles and blessed by the Lord God almighty, if we return to Him perhaps he will have pity on us and heal our land. In Him is our hope all day long.
Voice of the Shepherd
July/ August 2023

So then, men ought to regard us as servants of Christ and as those entrusted with the secret things of God. Now it is required that those who have been given a trust must prove faithful.   1Corinthians 4:1-2
Herb Turetzky attended the New Jersey Americans' first-ever ABA game in October 1967 expecting to be just a spectator. Turetzky, a student at LIU Brooklyn, arrived early at the Teaneck Armory. Max Zaslofsky, the Americans' coach and GM who had attended the same high school as Turetzky, greeted him as he walked in, "Herb, can you help us out and keep score of the game tonight?" Turetzky responded, "Max, I'd love to. I'm here, so why not?" Turetzky sat down at a wooden folding chair at half court and jotted down the lineups. That was more than 2,000 games and 53 years ago. Since then the team has moved to three different cities, played in eight arenas, and been absorbed into the NBA. And Turetzky is still setting in that wooden chair. "I've never left that seat since," he says. "I'm still here and I'm still going." NBA official Bob Delaney calls him, "the Michael Jordan of scorekeepers." And an article in Sports Illustrated referred to him as the "courtside constant." One simple "yes" led to a meaningful lifelong service.
God has saved us and calls us to service in His Kingdom. We have a great task as believers - it is the share the gospel message, to encourage believers, and to proclaim the good news to people who are living and dying without hope and without God. There are no "bench warmers" in the kingdom of God. Each of us has been given gifts and talents by God and we are to use them for His good and glory. We don't have to do everything, but everyone is called to do something. All God requires of us is that we be faithful. Are you doing what God has called you to do? Are you faithful?
As we prepare for Vacation Bible School and the sharing of the gospel with 200 plus children through crafts, decorating, bible stories,  and snacks there is a large amount of work that still needs to be done. God has entrusted these children to our care. We have been given a great privilege and a great responsibility. Would Jesus' words to the church in Thyatira be words He would say of us at Shepherd of the Valley? "I know your deeds, your love and faith, your service and perseverance, and that you are now doing more than you did at first." (Revelation 2:19)
As we grow in the grace and knowledge of God we are to be growing in our service to God and to the saints. Sometimes the labor is difficult and demanding but we have these encouraging words from our Lord: "Therefore, my dear brothers, stand firm. Let nothing move you. Always give yourselves fully to the work of the Lord, because you know that your labor in the Lord is not in vain."  (1Corinthians 15:58)
As Oswald Chambers said, "There are no such things as prominent service and obscure service; it is all the same with God. Be it large or small, in front of a crowd or behind the scenes the work of the kingdom of God must be done." Are you faithful in the service God has called you to do?
Voice of the Shepherd
May 2023

Voice of the Shepherd
April 2023

[Jesus] told them, "This is what is written: The Christ will suffer and rise from the dead on the third day, and repentance and forgiveness of sins will be preached in His name to all nations, beginning at Jerusalem."       Luke 24:47
Retired pastor Sam Duree, age 77, could be enjoying his golden years in an easy chair. However, instead of just letting the days fly by, Duree is building birdhouses to support a Moscow seminary.
Duree spends four hours a day planning, sawing, sanding, drilling, gluing, and nailing cedar fence pickets in a workshop in his garage. He then hits the road with 35 different kinds of birdhouses, selling them at festivals and craft shows. Over the past six years, Duree estimates he has built about 3,000 birdhouses, raising $85,000 for Russia United Theological Seminary. Duree saw the need for the Moscow seminary during 14 mission trips to Russia and Siberia.
"We have to realize we're part of a global community, and we have a global ministry," Duree says. "I feel like I'm doing what I'm supposed to do. The good Lord has plans for us, and I'm doing what I can to carry them out."
After His resurrection, Jesus continued to appear to His disciples over a period of 40 days then He ascended into heaven. The work to fulfill His instructions to have "the forgiveness of sins" preached to all nations has been left to His followers - US.
Jesus gave His life in mission work, coming from heaven to earth that we might be saved, and we have been commissioned to carry on that work. Missions are to be important for us because lost people are important to God, regardless of nationality. Missions are to be important to us because we have been blessed to be a blessing. Imagine how your life would have been different if you would have never heard the gospel message;  if you would have never known the forgiveness of sins; if you did not have the hope of eternal life; it would have been a sad and hard existence.
There are three ways we can take part in the work of sharing the Gospel message - through our prayers, our tithes and offerings, and our willingness to work for the kingdom of God.
Prayer: Prayer is a vital work we all can do, so that the message of Jesus might go forth to all the world. Jesus told us, "The harvest is plentiful but the workers are few. Ask the Lord of the harvest, therefore, to send out workers into His harvest field." (Matthew 9:37-38) The task is so great that it cannot be accomplished without Divine aid.
Give: The work of sharing the gospel cannot be accomplished apart from God's people sharing their resources so that others might hear. We do this through our faithful, regular offerings and by showing love for the lost through special giving. The Apostle Paul said, "You will be made rich in every way so that you can be generous on every occasion, and through us your generosity will result in thanksgiving to God." (2 Corinthians  9:11) Christ lavished His love on us and we are to do the same for others.
Go: There are opportunities to go:  through the ministry of Shepherd of the Valley (VBS, quilting, Operation Christmas Child - just to name a few); in our community - are you talking about your faith with your friends and neighbors- inviting them to worship; our country - contacting our legislators about issues impacting our faith and families or taking a mission trip to help with disaster relief; finally, around the world - are you joining in the many mission opportunities presented at SVLC, praying for the Gospel to go forth throughout the world.   As believers, ALL that we do is to be done to glorify the Lord.
The Resurrected Lord Jesus Christ told His disciples to "go and make disciples of all nations.," Are you doing your part to fulfill the Great Commission?
Pastor David
But if you suffer for doing good and you endure it, this is commendable before God. To this you were called, because Christ suffered for you, leaving you an example, that you should follow in His steps. 1 Peter 2:20b-21
The book, Hinds Feet on High Places, is a parable, a modern allegory similar to Pilgrim's Progress. But instead of dealing with the overall Christian journey, it focuses on a life of fear, anxiety, and self-loathing.


The main character is named Much-Afraid. Much-Afraid is constantly harassed by her family, the Fearings. They oppress and criticize her all the time. But Much-Afraid loves the Shepherd, who wishes to take her to the High Places, a good land in the far mountains. For her journey, the Shepherd gives her two companions; two sisters named Sorrow and Suffering.


There comes a moment in Much Afraid's journey when she is tempted to give into Pride, to listen to his

temptation, and abandon her journey. But she calls to the Chief Shepherd, who comes and rescues her. He gently rebukes her that she should not have let go of the hands of Sorrow and Suffering on her journey.
In the season of Lent, we are reminded that Jesus never promised us that life would always be pleasant and happy, in fact He said, "...in this world you will have trouble. But take heart! I have overcome the world." (John 16:33) There are, however, conclusive benefits from the painful trials we go through. According to the Apostle Paul, "..we know that suffering produces perseverance; perseverance, character; and character, hope. " (Rom 5:3-4) Sorrow and suffering do a good work in us - even to give us hope. The Apostle James also acknowledged, "...that the testing and trials of the Christian life have the positive effect of developing perseverance and bring about maturity in the life of the believer." (James 1:2-4)


In the time of severe tribulation the Apostle Peter pointed the believers to the suffering of Jesus, and

encouraged them to have the same attitude as Jesus did. Peter also acknowledges that anguish and affliction have the beneficial outcome of turning us away from our own sin. He writes, "As a result, (of suffering) he does not live the rest of his earthly life for evil human desires, but rather for the will of God. (1Peter 4:2) Difficulties help us to turn our eyes to Jesus and find comfort and peace in Him.
Are you feeling besieged and surrounded with bitterness and hardship? Are you feeling you have been made to dwell in deep darkness? Don't give up and don't be discouraged or dismayed. We have been instructed that "we must go through many hardships to enter the kingdom of God." (Acts 14:22) The good news is God, who called us, will walk through these trials with us and also sustain us in them. Isaiah the prophet recorded God's Words for us: "But now, this is what the Lord says— He who created you, O ____(your name)_______, He who formed you, O Israel: 'Fear not, for I have redeemed you; I have summoned you by name; you are mine. When you pass through the waters, I will be with you; and when you pass through the rivers, they will not sweep over you. When you walk through the fire, you will not be burned; the flames will not set you ablaze. For I am the Lord, your God, the Holy One of Israel, your Savior...'" (Isaiah 43:1-2)
During Lent we are reminded that God is with us. We are not alone. God, who gave grace and strength to our Lord and Savior Jesus Christ, will also give us everything we need for this life. In every trial, hardship, and difficulty, we are not to live in fear, but in faith in Christ as we follow in His footsteps.


Pastor David
Voice of the Shepherd
March 2023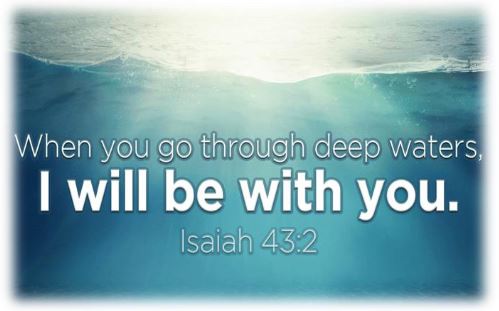 The Voice of the Shepherd
February 2023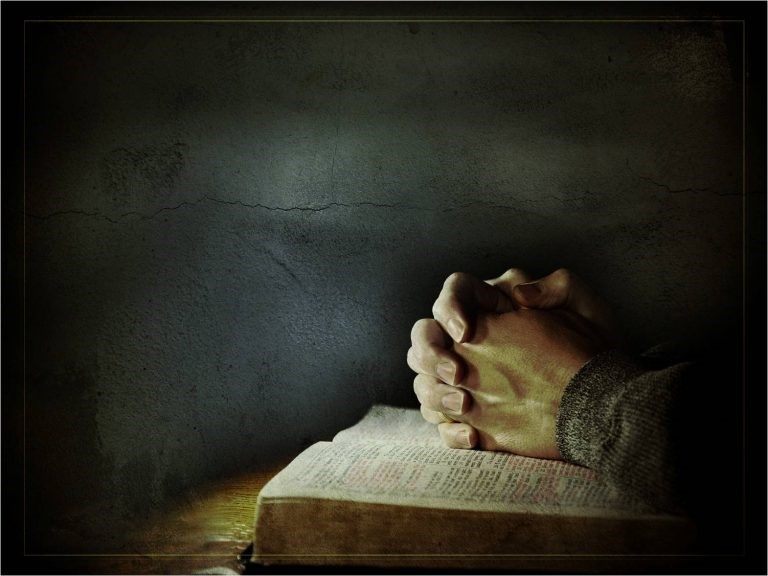 ...one of His disciples said to Him, "Lord, teach us to pray, just as John taught his disciples." Luke 11:1
Prayer was essential in the life of Christ. As we read through the Gospels, we find Jesus often in prayer.
At His baptism, "as He [Jesus] was praying, heaven was opened and the Holy Spirit descended on Him." (Luke 3:21b-22a)

Mark records "Very early in the morning, while it was still dark, Jesus got up, left the house and went off to a solitary place, where He prayed. (Mark 1:35)

It was as Jesus was on the mountain praying, that He was transfigured before Peter, James, and John.

Twice, after feeding the 5000, and before making the big decision of whom He would choose to be His disciples, Jesus spent the whole night in prayer.

It was in the Garden of Gethsemane that He cried out to God and angels were sent to strengthen Him.

On the cross Jesus prayed and forgave those who crucified Him.
These instances were not the only times Jesus was given to prayer, Luke records "Jesus often withdrew to lonely places and prayed." (Luke 5:16)
Jesus called His disciples to be in prayer as well. He told them, "Watch and pray so that you will not fall into temptation." He taught His disciples a parable to show them that they should always persevere in prayer and not give up.(Luke 18:1) It is through prayer that He taught that they could move mountains.
Have you ever considered giving God a daily gift of time? Not just a few minutes here and there, but setting aside time when you are not rushed and pressed by the clock? Time to praise Him and to give thanks to Him for who He is and what He has done. Time to draw near to Him and in the process to draw strength for the challenges of the day to come. Isaiah said, [God] gives power to the faint, and strengthens the powerless. Even youths will faint and be weary, and the young will fall exhausted; but those who wait for the LORD shall renew their strength, they shall mount up with wings like eagles, they shall run and not be weary, they shall walk and not faint. (Isaiah 40:29-31)
Power and strength come from the Lord. As we wait on Him in prayer, calling on His name and trusting in Him. The early church was never lacking in power because they were never neglecting prayer. The Apostle Paul reminded the believers of the importance of prayer not only for the unsaved but for the believers as well. To the church of Ephesus he wrote:  And pray in the Spirit on all occasions with all kinds of prayers and requests. With this in mind, be alert and always keep on praying for all the saints. (Ephesians 6:18) To the Colossians Paul said, "Devote yourselves to prayer, being watchful and thankful." (Colossians 4:2) To the Thessalonians his instructions were to: pray continually and give thanks in all circumstances…. (1Thessalonians 5:16-18)
Are you discouraged? Do you have "mountains" in your life that block the joy and life Christ wants you to have? Are you feeling stressed and overwhelmed by your life or by the world around you? During the month of February our Sunday Sermon Series is titled; Prayer that moves Mountains. Using as a guide, Dick Eastman's book, "The Hour that Changes the World" we will be learning about different aspects of prayer. If one were to put these teaching into practice it would not only change your personal world but the world around you. It would strengthen your faith for the all the days ahead.
Pastor David
The steadfast love of the LORD never ceases; His mercies never come to an end; they are new
every morning; great is Your faithfulness. Lamentations 3:22-23 NEB
Amy Carmichael, in Learning of God said, "Everywhere the perpetual endeavor of the enemy of souls is
discouragement. If he can get the soul "under the weather," he wins. It is not really what we go through
that matters, it is what we go under that breaks us. We can bear anything if only we are kept inwardly
victorious. ... If God can make His birds to whistle in drenched and stormy darkness, if He can make His
butterflies able to bear up under rain, what can He not do for the heart that trusts Him?"
It seems like 2022 began just a few days ago and now we are turning over a new leaf, or better yet
getting a new calendar. As you look back at the last year, do you have any regrets or discouragements
that are weighing you down? Are you packing any extra pounds of guilt or shame from yesterday or
yesteryear? Are you disturbed or troubled by any past transgressions?
Many people look forward to the new year, as the perfect time to put the past behind, to look forward
to a better day. The good news for believers is you don't have to wait for January 1 st to roll around to
begin anew. Jeremiah the prophet said this of God's grace: His mercies never come to an end; they are
new every morning.... God's willingness to forgive you never wears out, what happens is we become
weary of asking for grace.
The truth is that we are unable to change our past, but we have the power to change our future by the
grace of God. Every morning God freely, graciously, and generously offers us His abundant and steadfast
love and forgiveness. Every day we are afforded a chance to start anew.
What is required to get in on this "daily special?" A humble heart. That's it. A heart that is willing to
admit its transgressions. A soul that is longing for freedom from guilt. A mind that desires amnesty. A
faith that believes God's mercies are new every morning. The bible teaches that God is more willing to
forgive us then we are willing to ask. Because of God's abundant grace, we are afforded the blessing of
living each moment forgiven. As you begin each day, take a few minutes to be silent before the Lord. Ask
him to show you any attitude or action, any shortcoming or flaw that hinders or hampers your
relationship with Him. Whatever may come to mind, large or small, ancient, or current, confess it as sin
and receive grace from His great quantity of mercy. If you have confessed it before, recall the promise of
God and believe His Word. For I will forgive their wickedness and will remember their sins no more
(Hebrews 8:12). Even though we may not feel forgiven, and our heart might condemn us, God is faithful
to His promise. You cannot drain the storehouse of God's mercy and grace anymore than you could
drink the ocean dry. So live daily in the company of those who receive God's abundant provision of
grace and the gift of righteousness.
The Voice of the Shepherd
January 2023